SecureTrust will save your team time, safeguard sensitive data and streamline the PCI compliance process.
PCI Consulting and Compliance Validation Services Leader
Wrestling with technical jargon and complex paperwork can drain hours from your day. But complying with Payment Card Industry (PCI) standards doesn't have to be a headache. Partnering with SecureTrust makes the process quick and easy, which allows your team to get back to serving your customers and growing your business.
SecureTrust is the leader in PCI consulting and compliance validation services, with more experience than any other qualified security assessor in managing small, midsize and large complex assessments. We've worked hand-in-hand with the PCI Security Standards Council since its inception, and today we are a one-stop shop for PCI compliance.
Experience, Methodology and Technology
SecureTrust is a Qualified Security Assessor Company (QSA-C) and holds the following accreditations:
Payment Application Data Security Standard (PA-DSS) assessor
Point-to-Point Encryption (P2PE) assessor
Qualified PIN Assessor (QPA)
Software Security Framework (SSF) assessor
Card Production Security Assessor (CPSA)
Approved Scanning Vendor (ASV)
Our experience, methodology and technology will give you the tools to go beyond the base-line requirements and build a compliance program that will help you defend against the latest cyber-attacks.

Improve Visibility and Control
Compliance Manager simplifies the assessment process by providing you with more visibility and control. Compliance Manager is a secure, centralized hub for team communication with mechanisms to share and store key documents and sensitive information.
The dashboard and timeline also highlight upcoming deadlines, prioritizes key action items and tracks progress to streamline the compliance process and help keep everyone on the same page.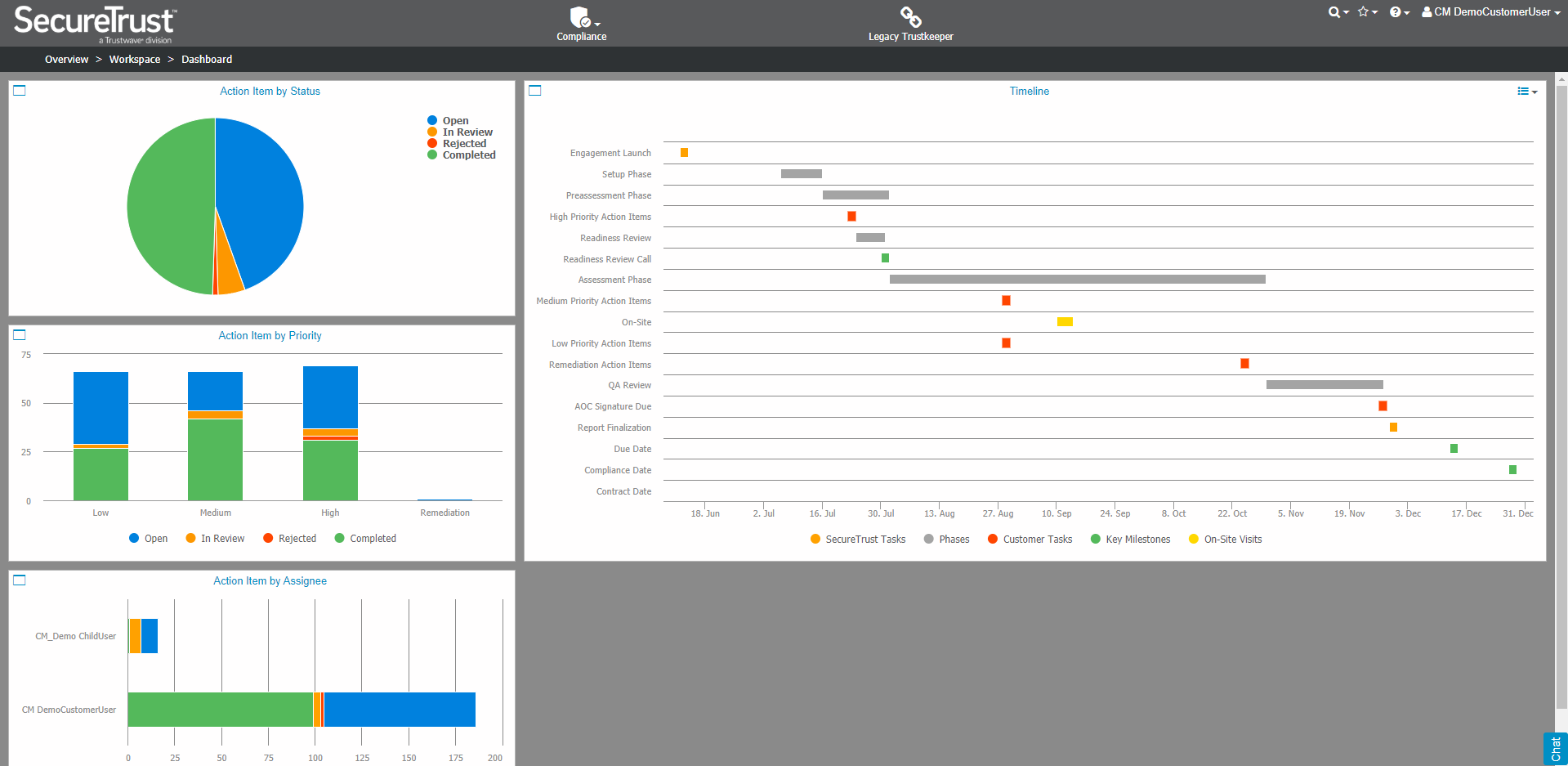 Make Security A Priority
Making your business more secure starts with understanding its weaknesses. SecureTrust Vulnerability Management Services help you rapidly identify and address security deficiencies, decreasing the risk that customer data, financial information, intellectual property and other types of sensitive data could be stolen. Our vulnerability scans and penetration tests can help you fulfill your compliance requirements, and keep your database, network and applications more secure.
Plus, choosing SecureTrust will give you peace of mind. Working with our industry-leading consulting team will provide an extra layer of protection to your brand—and your executive team. Our expertise will give your customers, employees, shareholders and partners confidence that you have done due diligence and selected the best assessor for the job.

Establish Best Practices
Maintaining PCI compliance is only the first step toward data security. To protect your business against more advanced cyber threats, your company needs to set the bar higher. As part of a SecureTrust assessment, your consultant will score your security maturity and benchmark you against your peers. They will explain your compliance posture and recommend uniform security policies and integrated technologies that can be deployed across your business. These insights will help you make more strategic investments and keep your business safe from evolving risks.
However, security practices are only effective if they're followed across the board. That's why SecureTrust works with your staff to ensure they stay in compliance all year long. Our consultants provide quarterly Business-as-Usual (BAU) reviews that help organizations monitor controls and ensure that scans, tests, reviews and other required tasks are completed on schedule. SecureTrust can also help your staff understand the importance of handling data securely. Our online educational courses can teach your team about a variety of topics, from general security awareness to secure development practices and training for technical staff or other specific job roles. Offering this type of training program helps demonstrate your company's commitment to security, and encourages your teams to stay vigilant all day, every day.
Ready to talk?
Contact us to learn how we can help you protect your company's payment data.